May
Sculpted by Jane Zidjunas
New York Doll Products/Seeleys Mold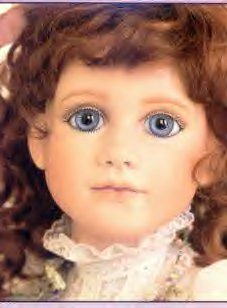 Available:
Child/Teen Series
.
18" May Head
Angel's Torso-ALB9873
Angel's Arms -ALA9873
Angel's Legs - ALL9873

18" May
Soft Fired: $40.00
Bisque: $80.00
.
Interchangeable Parts:
TBD
Return Links:
Alphabetical Link
Series Link
.
Wig Size: 10/11 in
Head circ. 10" (25cm)
Eye Size: 16 mm
.
Fits
ALB9873 Body Mold Angel's Porcelain Body
the 14" modern body (MB140S).
.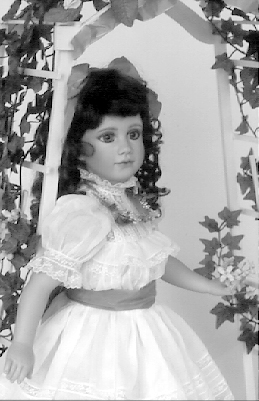 .
May, sculpted by Jane Zidjunas, is a thoroughly modern girl, but the serenely sweet face
has a timeless quality that makes this doll suitable as a young girl of any era.
The eyes can be cut out or painted.
May's head can be attached to either a porcelain body (ALB9873)
or a Modern composition body (MB 140S) and/or WSDP5 Doll Project Worksheet
available through New York Doll Products)
.
Available in Porcelain SFGW (Soft Fired Greenware),
Bisque Blank (Unpainted Bisque), or
China Painted Porcelain Bisque (Painted Bisque)

LITTLE MAY HEAD MOLD
Price: $92.00
Product ID: M1012
Overview
Little May
Description
Smaller version of DAG mold May. Fits Angelica's body. References: worksheet for modern dolls WSMD14; Dollpro Apr/May/June 1996.
Head cir.: 9", Eyes 14mm, doll size 18".
M1012 Little May Head Mold.
Also available separately:
MALS1005 Arms, legs, shoulder plate mold set (3 molds). Wt. 31 lbs.
WSMD14 May painting worksheet.
Patterns:
P508 Soft body.
P012 Dress.
Price shown is for head mold only.
Larger version of May also available.
.
ALB9873 - Fits:
Angel
May (DAG)
Swiss Heidi DAG
Available in Porcelain SFGW (Soft Fired Greenware),
Bisque Blank (Unpainted Bisque), or
China Painted Porcelain Bisque (Painted Bisque)